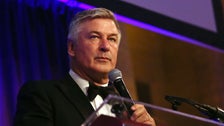 Alec Baldwin was arrested Friday in New York City after a dispute over a parking spot allegedly became physical, a New York Police Department spokeswoman confirmed to HuffPost.
Baldwin, 60, allegedly struck an unidentified 49-year-old man, sending him to the hospital, in the city's West Village neighborhood.
Charges are pending against the actor, the spokeswoman said.
Baldwin has enjoyed renewed popularity for his blustering impersonations of President Donald Trump on NBC's "Saturday Night Live." The president has famously lashed out at the actor over his depictions. 
Asked for comment on his nemesis' arrest, Trump told reporters, "I wish him luck." 
Baldwin's history of antagonistic behavior is well documented. The actor was taken into police custody in 2014 for riding his bike the wrong way down Fifth Avenue and arguing with officers. He was charged with disorderly conduct.
He also received backlash in 2013 for lobbing a gay slur against a photographer attempting to capture his wife and infant son on camera. MSNBC, where Baldwin hosted a talk show at the time, chose to terminate his contract following the incident.
In 2011, he actor was kicked off a plane in Los Angeles for refusing to stop playing "Words with Friends," a word game, on his phone. 
Baldwin went to trial in 1996 over a misdemeanor battery charge and was acquitted; a jury decided the actor had acted in self-defense when he struck a man attempting to photograph his family.




Source HuffPost