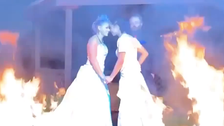 This is one wedding ceremony that got very heated.
When April Choi married Bethany Byrnes on Oct. 13 in Iowa, they vowed to keep the home fires burning by lighting both of their wedding dresses on fire while they were still wearing them.
The couple met in 2013 and got engaged in 2016, and have found a way to keep things from going cold.
"The way we keep the flame burning between us is constantly doing really crazy and dumb things," the 32-year-old Choi told Inside Edition.
Still, the two didn't just wake up with a burning desire to light each other on fire. Both Choi and Byrnes, 28, are variety entertainers experienced in both fire-eating and fire-breathing.
"You may now light the brides," the officiant said right after the couple said their vows.
This was an unusual wedding in other ways: The couple started with the reception to allow for the flaming wedding ceremony to be the climax.
Still, it wasn't an easy moment, Byrnes admitted.
"Seeing the other person lit on fire is definitely a little more nerve-wracking, because you can't see yourself get lit," she told Inside Edition.
Still, Choi told South West News Service every precaution was taken to ensure the wedding wouldn't end with a trip to the burn unit.
That meant the guest list included eight fire performers, a certified pyrotechnic and a medic.


Source HuffPost