Why are people in Turkey joking about onions on Twitter?
By Victoria Park
BBC News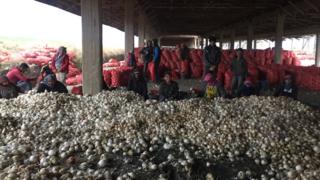 Huge inflation, high interest rates and market turmoil – Turkey's economic outlook has not been looking rosy of late, causing President Recep Tayyip Erdogan to take drastic action, and go on the hunt for onions.
President Erdogan states: "There will be no compromise" if people are found hoarding the vegetable.
Onions are four times more expensive than they were at the beginning of 2018. Agricultural experts say there are many reasons for this rise – not just stockpiling – and that raids on warehouses will not solve the problem in the long term.
This new edict has instigated a plethora of jokes on Turkish social media as people mock what they are calling the "onion crisis".
Main opposition Republican People's Party (CHP) leader Kemal Kilicdaroglu joked: "Don't make the onion cry."
The government says inspectors have started to investigate, with 50,000 tonnes of onions found stockpiled in the Ankara district of Polatli.
President Erdogan is adamant: "Potato and onion stockpilers, fruit and vegetable stockpilers will pay the price."
Good Party leader Meral Aksener: "Erdogan has declared the onion a terrorist organisation."
Peel of laughter
Twitter user Şaban Dilsiz tweeted the following cartoon:
"Woah an onion!"
"I swear that I'm eating it, not selling it!"
Kuzey Onder tweets: "I have a sack of onions. I'm afraid they're going to raid my house."
In a nod to major world news sitting alongside stockpiled onions, @kacsaatoldu1881 tweets: "Its been a couple of minutes since Insight spacecraft has landed on Mars after a journey of six months and 300 million miles; but it's been a couple of hours since an onion warehouse has been raided."




Source BBC News