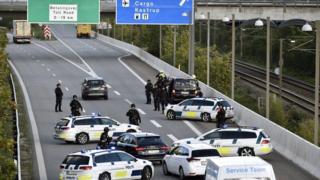 A colossal manhunt, an extradition, and an Arab separatist movement.
In a plot straight out of a Scandi noir, Denmark has accused Iran of planning to assassinate an activist on its soil.
Iran has dismissed the allegations. But Denmark has recalled its ambassador from Tehran and is speaking to other EU countries about how to respond.
The claim comes as the EU tries to save a landmark nuclear deal with Iran, from which the US has already withdrawn.
In August, the Trump administration reimposed sanctions on the country, and a second wave comes into force on 5 November.
So what does Denmark say happened? What's been the response? And has this happened elsewhere in Europe?
What happened in the investigation?
The drama started in September, when – seemingly from nowhere – Denmark's capital Copenhagen was entirely shut off.
Police closed bridges, boats and trains to and from Zealand, the country's largest island, in a massive hunt for a Swedish-registered black Volvo.
Three people involved in a "serious crime" were in the car, an official statement said. "Witnesses who see the vehicle should contact the police immediately," it added.
After hours of confusion and travel chaos, the authorities reopened all transport links and apologised, saying in a tweet there was nothing new to report on the case.
Rumours have circulated ever since about what prompted the unprecedented action.
On Tuesday, the shocking answer came.
Finn Borch Andersen, head of Denmark's intelligence service Politiets Efterretningstjeneste (PET), said the agency believed Iran "was planning an attack in Denmark" against three activists.
The trio, who live in the city of Ringsted, south-west of Copenhagen, are part of the separatist Arab Struggle Movement for the Liberation of Ahvaz (ASMLA).
What is ASMLA?
PET says days before the manhunt on 28 September, agents saw an individual taking photos of the ASMLA branch leader's home.
At the press conference, the PET chief said they thought this person – a Norwegian citizen of Iranian origin – planned to give the pictures to Iran, which could be used to plan an attack on Danish soil.
Agents were further concerned when a Swedish-registered black Volvo starting moving "suspiciously" outside the house, Mr Andersen said.
When they tried to stop the car, it sped off – prompting fears of an imminent attack, and the epic manhunt.
Danish newspaper Politiken report that the authorities have spoken to the Volvo passengers since, and realised the car had nothing to do with the case.
But in October, the man who took photos of the ASMLA leader's home was arrested in the Swedish city of Gothenburg.
Swedish security forces say he has now been extradited to Denmark.
"We are dealing with an Iranian intelligence agency planning an attack on Danish soil," PET chief Andersen told the press conference. "Obviously, we can't and won't accept that."
What's been the response?
Iran was quick to dismiss the claims as fiction.
Foreign ministry spokesman Bahram Qasemi said such "biased reports" and allegations pursued "the enemy's plots and conspiracies" to harm the developing relations between his country and Europe, according to Tasnim news agency.
But Danish Prime Minister Lars Lokke Rasmussen called the alleged plotted assassination "totally unacceptable".
He said the British Prime Minister, Theresa May, had voiced support for Denmark in a meeting in Oslo.
Denmark's foreign minister, Anders Samuelsen, said the country was discussing possible action with other European countries.
Then on Wednesday, Danish politician Nick Hækkerup even compared the plot to Russia's attempted poisoning of Sergei and Yulia Skripal in the British town of Salisbury in March, broadcaster DR reports.
US Secretary of State Mike Pompeo congratulated Denmark on arresting "an Iranian regime assassin".
Are the claims true?
Former PET chief Hans Jørgen Bonnichsen told Danish broadcaster DR it is "very rare" to have one intelligence agency making claims against another, as it could cause a rupture in international relations.
"PET has really thought about it before choosing that step," he said.
Iran has already clashed with Denmark this year.
Following a deadly shooting at a military parade in Iran in September, in which more than 25 people were killed, Iran accused Denmark, the Netherlands and Britain of harbouring members of militant opposition groups.
ASMLA originally asserted its responsibility for that attack before retracting the claim.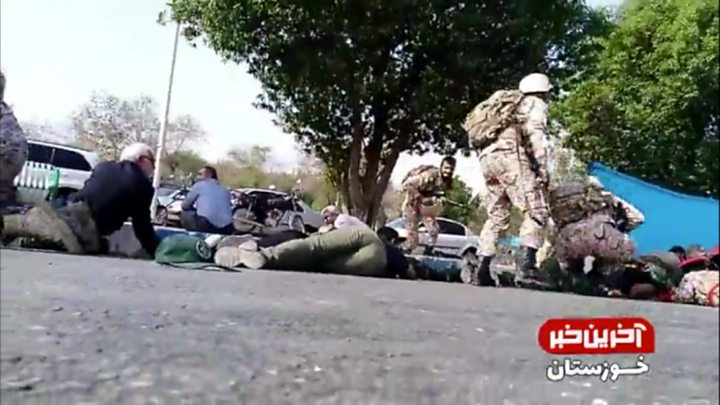 In October, France accused Iran of an alleged bomb plot to attack exiled Iranian opposition members in Paris.
The claim follows the arrest of an Iranian diplomat based in Austria, Assadollah Assadi, by police in Germany.
In June, allegations emerged that Iran was behind the assassination of a man named by police as Ali Motamed near Amsterdam in 2015.
The 56-year-old is suspected of being Mohammad Reza Kolahi Samadi, who was accused of planting a bomb which resulted in the deadliest attack in modern Iranian history. Iran denies any involvement.
And in May, the US Secretary of State made a speech in May asserting Iran's elite Quds Force "conducts covert assassination operations in the heart of Europe".
Mr Pompeo did not substantiate the claims at the time, and they were met with confusion in Europe.
There have been no recent killings in Europe officially attributed to Iran.




Source BBC News