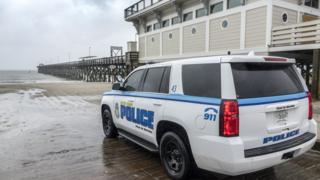 Five police officers have been shot in South Carolina, officials say.
The "active shooting situation" happened in Vintage Place, Florence, on Wednesday afternoon in what police described as a "major incident".
The suspected gunman has been arrested and taken to hospital. The motive is not clear.
"We are asking everyone to stay away from Vintage Place as there is still an active crime investigation in progress," Florence officials said.
The condition of those shot has not yet been confirmed but US media said one officer was fatally injured.
South Carolina Governor Henry McMaster paid tribute to the police.
The Officer Down Memorial Page lists the names of 23,408 US police officers killed in the line of duty – 112 so far this year.
Over 15,000 people have been killed by guns in the United States in 2017, according to a list compiled by tracking website Gun Violence Archive.
That figure does not include an estimated 22,000 annual suicides using firearms.




Source BBC News