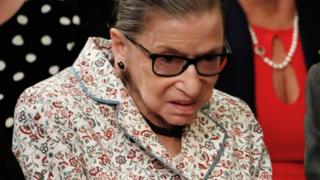 US Supreme Court judge Ruth Bader Ginsburg has fractured three ribs after a fall on Wednesday, the court says.
The fall happened in her office at the Supreme Court in Washington.
Ms Ginsburg, 85, went home but was in discomfort and went to George Washington University hospital on Thursday morning, a statement said.
Tests showed that she had fractured three ribs on her left side and she has been admitted for observation and treatment.


Source BBC News