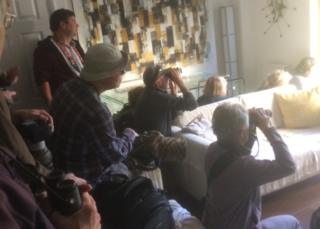 A man's living room has been besieged with birdwatchers trying to get a glimpse of a rarely-seen bird.
Stephen Leake first saw the rose-coloured starling in the back garden of his house near Norwich on 7 October.
He reported it to the RSPB and logged his postcode, thinking it was for recording purposes.
Mr Leake has since had more than 150 people visit his home, including some who had travelled from north England. He said they were "wowed" by the bird.
The RSPB said the starling should be migrating from Mongolia to Asia.
Mr Leake, a teacher from Costessey, said it was a "mystery" as to why it had decided to settle in the back garden of a new-build home.
He said he first thought it was a woodpecker or a juvenile magpie until he contacted the RSPB, which confirmed it was a rose-coloured starling.
Mr Leake said 24 hours after giving his postcode to the RSPB, he noticed a group of people outside his house.
He said he spoke to a couple of them and asked if they were there for the starling and they said they were.
"I thought I'd invite them in off the street and let them have a look to get a positive identification.
"I'm quite a kind guy and off work with a lung condition. I thought 'why not?' They called it a lifer – a once in a life time event."
---
Rose-coloured starling
The bird is also known as the rosy pastor
It has a pink body and black head
In their native Asia, rose-coloured starlings will gather in big flocks
About 50 sightings are recorded in the UK each year, with between five and 10 in Norfolk
The bird may settle in the UK until spring and is "not fussy" about eating classic bird seeds
Source: RSPB
---
You may also like:
He said up to 30 people had visited his house at a time, including a man who had travelled from Burnley and another from Huddersfield, over the past two weeks.
"They were wowed by it. One woman even welled up," Mr Leake said.
"The birdwatchers are drawn towards the bird so why not give them the opportunity to see it.
"I am a bird fan, but not a twitcher. I'm a big fan of nature."
Mr Leake said they had been staying for about 20 minutes, "satisfied with a sighting or photographs".
"He's 4,500 miles off course so he'll never find his way home but while he's here, he's getting plenty of care and attention," said Mr Leake.


Source BBC News