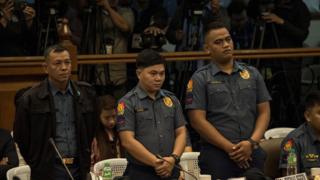 Three Philippine police officers have been found guilty of the high-profile murder of a teenager, the first such convictions since President Rodrigo Duterte's "war on drugs" began.
A court sentenced them to up to 40 years in prison each for the killing of 17-year-old Kian Delos Santos in 2017.
President Duterte launched the anti-narcotics campaign in 2016, to deal with a rampant drug problem.
Since then 5,000 dealers or users have been killed, according to police.
President Duterte has been criticised by human rights groups for what is seen as sanctioning the extra-judicial killings and promising to pardon police officers convicted for "drug war" killings.
The killing of Kian Delos Santos in the capital city, Manila, has been one of the most high-profile deaths in the campaign.
He was found dead in an alley. He was accused by police of being a drug runner – though the family dispute this. Police said they killed him in self-defence.
Then CCTV footage emerged contradicting the official police report and sparking huge public outrage and protests.
Two months after the killing the police were ordered to stop the anti-drugs campaign. But the campaign was reinstated in December last year with President Duterte citing a worsening drug situation.
The three convicted policeman are not eligible for parole.


Source BBC News