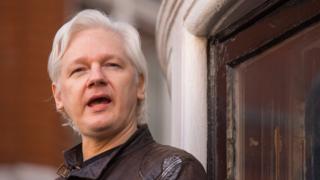 Julian Assange is to launch legal action against the government of Ecuador, accusing it of violating his "fundamental rights and freedoms", Wikileaks has announced.
Earlier this week, the whistleblower was given a set of house rules by the embassy, including cleaning his bathroom and taking better care of his cat.
In a memo, it threatened to confiscate the pet if he did not look after its "well-being, food and hygiene".
Mr Assange had his online access cut in March after "interfering in other countries' affairs", Ecuador said, but officials have partially restored it.
The co-founder of Wikileaks has remained at the embassy after seeking asylum to avoid extradition to Sweden over a rape allegation – the investigation was later dropped.


Source BBC News