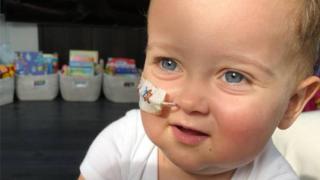 An appeal by Italian parents desperate to find a bone marrow donor for their 18-month-old son has inspired action.
Alessandro Montresor, also known as Alex, has a rare immune disorder that affects "only 0.002% of children" and can only be cured with a transplant.
His parents Paolo and Christina, who met and live in London, are in a race against time as doctors say Alex has only five weeks to find a match.
As a result, events have been organised across Italy for people to get tested.
The family "are amazed and grateful for the tsunami of solidarity" in the wake of their appeal, a family friend told the BBC on Thursday.
In a heartfelt Facebook message, Alex's parents shared how their only child suffers from Hemophagocytic Lymphohistiocytsis, also known as HLH, and is currently in a clinical trial at Great Ormond Street Hospital.
The experimental drug he is receiving, his parents were told, may become ineffective after five weeks.
Giuseppe Saponara, who ran a donor drive in Milan on Sunday, told the BBC: "This disease is very rare and the baby has an extremely rare antigen, so it is difficult to find a [match]." He said the odds were one in 100,000.
"Fifty percent of the children affected by HLH die within ONE MONTH," the parents wrote on Facebook, "while approximately one third will develop irreversible deficiency of their neurological system."
An appeal for healthy people aged between 18 and 36 to undergo a "simple" HLA (human leukocyte antigen) testing launched last week and has received media attention in Italy.
"Alessandro Maria is one case, but there are many people in the world who need help," said family friends urging people to become donors.
"Nowadays the bone marrow donation is very simple, and does not require a theatre procedure anymore," Alex's parents told online supporters.
"Get in contact with your local hospital and everything is done through a limited blood sample, or a saliva sample if you are afraid of the needle."
Alex is currently at home in London with his parents, who are trying to keep life peaceful and normal, family friends said.


Source BBC News