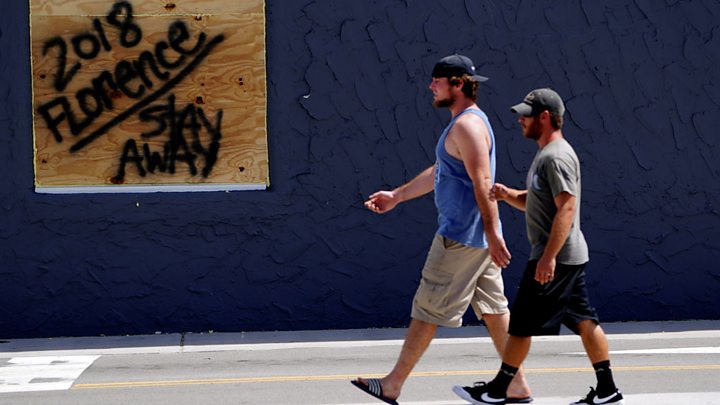 Hurricane Florence, which is nearing the US East Coast, could "kill a lot of people", emergency officials warn.
Federal Emergency Management Agency (Fema) spokesman Jeff Byard said storm surges may bring catastrophic flooding to inland areas.
Though Florence has been downgraded to a category two storm with 110mph (175km/h) winds, Mr Byard said it remained "very dangerous".
He warned of "feet of rain not inches" in the Carolinas and Virginia.
Mr Byard told Thursday morning's news conference that while Florence's wind speed had dipped, its hurricane-force wind field had expanded and total rainfall predictions were unchanged.
Floodwaters may rise up to 13ft (4m) as rivers see their flows "reversed", meteorologists have warned.
"So this is a very dangerous storm," said Mr Byard. "Inland flooding kills a lot of people unfortunately and that's what we're about to see."
"Your time is running out. The ocean is going to start rising," he said, warning that flooding would occur "within a matter of hours".
"Your time to get out of those areas… is coming to a close. I cannot emphasise that enough."
He said that people living near rivers, streams and lowland areas in the region must flee.


Source BBC News