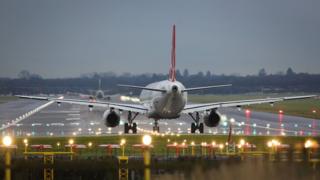 Flights at Gatwick Airport have been halted amid reports of a drone sighting.
It is understood the device was seen near a runway, with passengers awaiting take-off reporting planes stuck on the tarmac for more than an hour .
A spokesman said some inbound flights were holding while others had been diverted to different airports.
Gatwick confirmed the device had been sighted, while British Airways said it was told delays were "due to a drone."
One traveller said on social media his BA flight was being diverted to Stansted.




Source BBC News