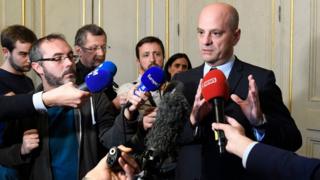 A French teenager has been charged with aggravated violence after video footage showed him pointing a fake gun at his teacher in the Parisian suburb of Creteil, prosecutors said on Sunday.
The incident was filmed and uploaded on to social media on Thursday by one of his high-school classmates.
The 15-year-old said it was "a joke", adding that he was not aware that he was being filmed, local media report.
The teacher made a complaint to the police on Friday.
The student turned himself into police the same day, accompanied by his father.
In the video, he points the fake weapon towards his teacher, who is sitting a desk. He shouts at her to mark him as present on the school register.
The teacher continues to work on her laptop while speaking to the class.
The Parisian newspaper reports the student had been angry that he had been marked as absent after turning up late for class at the Edouard-Branly High School.
'Recapture the Republic'
The incident was strongly condemned by Interior Minister Christophe Castaner.
"School is the cradle of the Republic and it is where we learn to respect the Republic," he said during a visit to a police station in eastern Paris, promising to "recapture the Republic square metre by square metre".
French President Emmanuel Macron called the incident "unacceptable", in a tweet.
A meeting will be convened next week to discuss ways to end violence in schools in city suburbs.
Didier Sablic, a teacher at the school for the past 25 years, told Le Monde newspaper that it was "not used to these types of incidents", adding that students were taught "communication skills and respect".


Source BBC News