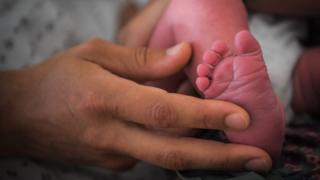 France has launched a national investigation into the number of babies being born with missing arms or hands – weeks after an initial inquiry closed.
The first investigation began after it emerged more than a dozen children had been born with the condition in clusters in three French regions.
It ended after health authorities failed to identify a common cause.
But now another 11 cases have come to light, prompting health officials to open a fresh investigation.
The condition is a type of agenesis, where the upper limbs of a foetus fail to form correctly during pregnancy.
It includes entire missing upper limbs, missing forearms and hands, or fingers – but not unrelated medical conditions, such as missing thumbs.
The cases are clustered in the regions of Ain on France's east coast, and in neighbouring regions Brittany and Loire-Atlantique, on the other side of the country.
'All of France wants to know'
The regional register for birth defects had raised concerns about a possible surge in cases in Ain in July, following reports from local doctors. It discovered seven cases clustered close together over six years.
But an initial report from the Public Health France in October concluded that those cases, between 2009 and 2014, were not significantly higher than the national average.
However, it now says that the 11 new cases it uncovered were all from Ain, covering 15 years since 2000.
Health Minister Agnès Buzyn had already pledged a further investigation in the wake of the initial report's lack of explanations, amid continued public concern and widespread media coverage.
Speaking on French television on Wednesday morning, she said the first results from the national inquiry would be published in January, with more to follow by summer.
The cluster of cases in Ain initially reported all involved people in rural areas, leading to speculation about the possible influence of pesticides – which has yet to be proven.
Ms Buzyn told broadcaster BFMTV that she did not want to rule out any possible causes – whether environmental, food-based, or otherwise.
"I think all of France wants to know," she said. "We don't want to rule anything out. Perhaps it's do with the environment, or something they ate, or something they drank. Perhaps it's what they breathed – right now I just don't know."
Three other cases in Loire-Atlantique and four in Brittany were also looked at. In those cases, the health body admitted that the numbers were higher than average – but again, no common cause was found.
Officials concluded that in all three regions, further investigations were not possible without a hypothesis to pursue.
The report also said that monitoring of birth defects was only carried out by six registers, covering just 19% of births in France. That has prompted some fears that the number of cases may be under-reported.
On Tuesday, Public Health France announced that the new cases had been uncovered by a further analysis of hospital databases.
It warned that a comprehensive survey several years after the birth of affected children would be "complex".
The case has drawn parallels with the Thalidomide scandal, involving a drug often taken by pregnant women to alleviate morning sickness. The link between Thalidomide and limb malformation during pregnancy was only uncovered after years of the drug's use.
However, no such link between a chemical or pharmaceutical cause has been drawn in France.


Source BBC News