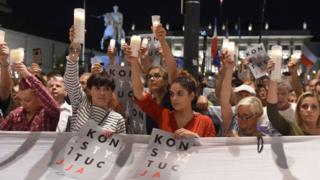 The EU's top court has ordered Poland to "immediately suspend" the application of its law which lowers the retirement age of Supreme Court judges.
The European Court of Justice's ruling upheld the request by the European Commission, which says the Polish law is incompatible with EU legislation.
The commission also says the law undermines judicial independence.
Poland says the reforms make the courts more efficient. The retirement age for judges was lowered from 70 to 65.
The changes triggered mass street protests across Poland. Opponents say the governing Law and Justice (PiS) party will use the law to appoint new judges loyal to the authorities.
The Polish government denies the accusations. It argues that the country's judiciary was not properly reformed after the end of communism in 1989.
The government is yet to respond to Friday's ruling.


Source BBC News