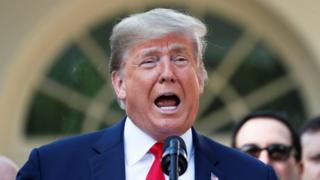 President Donald Trump said a new trade deal with Canada and Mexico would bring thousands of jobs back to North America in a "new dawn" for US factory workers.
Speaking at the White House, the President said the United States-Mexico-Canada Agreement (USMCA) vindicated his threats over tariffs.
The agreement governs more than $1tn (£767bn) in trade and replaces Nafta, which was signed in 1994.
Mr Trump said it was "truly historic".
The President held the press conference after earlier issuing tweets claiming the new trade pact solves the "deficiencies and mistakes" in Nafta.
He said the new deal was "much more reciprocal" than Nafta, which he blamed for the loss of one in four jobs in the car industry and 4.1 million manufacturing jobs.
"These measures will support many – hundreds of thousands – American jobs," Mr Trump said.
He has adopted an "America First" policy and launched a trade war against China, as well as imposed tariffs on steel and aluminium imports from Mexico and Canada.
"Without tariffs we wouldn't be talking about a deal," Mr Trump said.
He said it was too soon to talk to China about trade deal and said it was "privilege" for other countries to trade with the US and for them "to come in and attack the piggy bank".


Source BBC News