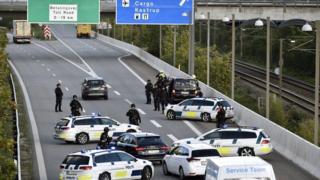 Denmark has accused Iran of planning to assassinate an Iranian activist on its soil.
The target is believed to be a member of an Arab separatist movement, Denmark's intelligence service said.
A Norwegian of Iranian background was arrested in Sweden on 21 October in connection with the alleged plan.
Danish Prime Minister Lars Lokke Rasmussen described the suspected plot as "totally unacceptable" and said the EU would discuss further action.
Authorities conducted a massive manhunt on 28 September which led to travel between Denmark and Sweden being suspended.
On Tuesday, Danish intelligence chief Finn Borch Andersen confirmed the measures had been taken to prevent the planned attack.
The alleged victim is said to have been a senior member of the Arab Struggle Movement for the Liberation of Ahvaz (ASMLA), a predominantly Arab region in the west of the country.
The plot came after a deadly shooting at a military parade in Iran in September, in which more than 25 people were killed.
The attack was claimed by another Arab separatist group and the Islamic State group, although neither offered proof of their claims.
On Friday, France expelled an Iranian diplomat over a bomb plot against a rally organised by Iranian opposition groups, diplomatic and security sources said.




Source BBC News