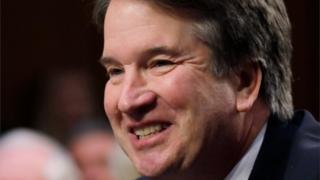 Brett Kavanaugh's Supreme Court seat looks all but confirmed after he won the backing of key senators despite an FBI investigation into sexual assault allegations.
Republican Senator Susan Collins and Joe Manchin, a Democrat, both indicated their backing for the judge on Friday.
Judge Kavanaugh's confirmation would tilt America's highest court in favour of conservatives.
The court has the final say on issues such as abortion and gun control.
A final vote on whether Judge Kavanaugh will join the nine-member panel could take place as soon as Saturday.
If confirmed, the position is for life.
Hours before the undecided senators indicated their backing, the US Senate narrowly advanced President Donald Trump's nominee to a final vote.
Friday's vote – 51-49 in favour – was a test of support for the embattled nominee who has faced sexual assault allegations from several women.


Source BBC News