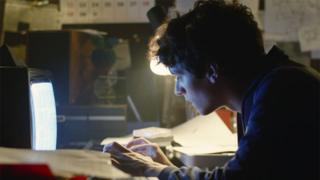 An interactive, choose your own adventure-style episode of Black Mirror has dropped on Netflix.
Set in 1984, Bandersnatch tells of a computer programmer trying to adapt a fantasy novel into a video game.
As the episode progresses, viewers are invited to make the lead character's choices for him – decisions that send the plot in different directions.
The resulting episode has more than a trillion unique permutations due to all the potential variants involved.
Bandersnatch took 35 days to film and takes around 90 minutes to watch, according to the Global News website.
Yet that time can be reduced to around 40 minutes if viewers avoid "do-overs" – narrative loops that steer them back to the main story.
"It was difficult all the way through," series creator Charlie Brooker was quoted as saying.
Co-creator Annabel Jones said: "One of the most challenging things about making this has been the crafting of the world and the various branches, and also limiting the endless, infinite potential offshoots and different stories you can make."
Carla Engelbrecht, Netflix's director of product innovation, added: "There are literally millions of permutations of the story, and your decisions matter."
As the film begins, viewers are invited to make seemingly trivial choices that determine which breakfast cereal lead character Stefan eats or what music he listens to on the bus.
The "choice points" then become more significant, and potentially more life-changing for Stefan as the story progresses towards one of five possible endings.
"It's a bit like making a giant patchwork quilt," Brooker told Wired magazine. "It's the only thing I've ever worked on where the story treatment crashed."
Netflix previously experimented with multiple narratives in children's shows Puss in Books and Buddy Thunderstruck: The Maybe Pile.
According to Variety, Bandersnatch cannot be viewed on Apple TV, Chromecast and "some older smart TVs".
Follow us on Facebook, on Twitter @BBCNewsEnts, or on Instagram at bbcnewsents. If you have a story suggestion email entertainment.news@bbc.co.uk.




Source BBC News