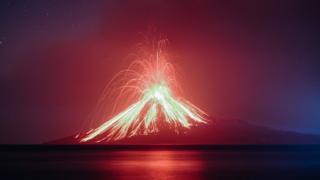 The alert level for Indonesia's Anak Krakatau volcano has been raised to the second highest level possible, after a series of eruptions spewed out lava.
All flights around the volcano have been rerouted and a 5km exclusion zone has also been imposed.
Indonesia's Disaster Management Agency (BNPB) said the alert level had been raised from level two to three – the second-highest level possible.
Last Saturday, the volcano triggered a tsunami which killed hundreds.
"The volcanic activity of Anak Krakatau continues to increase," said BNPB in a press statement, citing data from the Volcanological Survey of Indonesia.
"At present, eruption activity is still ongoing. The danger zone [has been] extended from 2km to 5km… people and tourists are prohibited from carrying out activities with a 5km radius."
On Saturday, tsunamis hit coastal towns on the islands of Sumatra and Java leaving at least 430 dead and hundreds more missing.
It is thought that volcanic activity from Anak Krakatau set off undersea landslides which in turn generated the killer waves.
Indonesia is prone to tsunamis because it lies on the Ring of Fire – the line of frequent earthquakes and volcanic eruptions that circles virtually the entire Pacific Rim.


Source BBC News