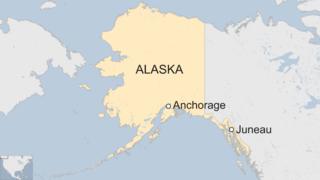 A powerful 7.0 magnitude earthquake has struck Alaska, causing people to run from buildings and prompting a tsunami alert for coastal areas of the state.
The quake was centred about 7 miles (11km) north of Anchorage, the largest city in the state, according to the US Geological Survey (USGS).
A series of aftershocks were recorded following the initial shock, which had a depth of 40.9km, the USGS said.
Around 300,000 people live in Anchorage with 100,000 in the surrounding area.
The earthquake was reported at 08.29 local time (17.29 GMT), the USGS added.
Footage and images posted on social media showed products scattered across floors of supermarkets with shelves collapsed and lighting damaged.


Source BBC News