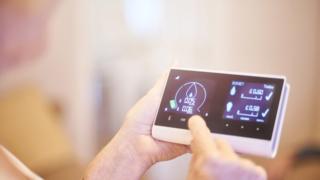 The rate at which smart meters are being fitted in British homes has fallen, new figures show just days after the government insisted a tough installation target would be hit.
Every home in Britain is supposed to have a smart meter – which avoids the need for customer readings – by 2020.
Government figures reveal that fewer were installed in the third quarter of the year than the previous quarter.
A host of organisations have said the 2020 deadline will be missed.
Last week, the National Audit Office (NAO) said that there was "no realistic prospect" of the government meeting its own deadline to install smart meters.
To meet the target, installers would need to replace 39 million old meters within the next two years, the NAO said. In comparison, just 12 million meters had been replaced over the past six years.
Consumer group Which? said large energy suppliers would need install 30 smart meters a minute, every day, for the next two years to replace the 46 million existing meters. At present, large energy suppliers were only putting in 9.7 meters a minute, it said.
Responding to the NAO report, the government insisted the target would be met.
Energy Minister Claire Perry said: "We've said everyone will be offered a smart meter by the end of 2020 to reap these benefits and we will meet that commitment."
However, her own department's latest figures show that 495,400 gas and 632,600 electricity smart meters were fitted by large suppliers in the third quarter of the year. This was a 10% fall compared with the previous three months.
The Department for Business, Energy and Industrial Strategy said there were now around 12.8 million smart and advanced meters operating across homes and businesses in Britain.
Smart Energy GB, which promotes smart meter technology, has said suppliers "are working hard to offer all households smart meters as soon as possible".


Source BBC News