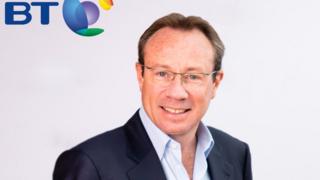 BT has named Philip Jansen as its new chief executive as the telecoms group seeks to revive its fortunes.
He replaces Gavin Patterson, who is stepping down after the company said a change of leadership was needed.
BT has been criticised for not investing enough in its broadband network and faced a £500m accounting scandal in 2017.
Mr Jansen, co-head of US payment processing firm Worldpay, will be paid £1.2m and start the job in February.
On top of his £1.1m per year salary, there will be an annual bonus of up to 240% of salary subject to performance. He will also join a long term share incentive plan worth 400% of his salary.
Jan du Plessis, chairman of BT Group, called Mr Jansen a "proven leader" with outstanding experience in managing large complex businesses.
"Philip's strong leadership has inspired his teams, successfully transformed businesses across multiple industries and created significant value for shareholders."Mr Patterson run the firm for almost five years but investors lost confidence in him amid a host of problems at the telecoms giant.
Mr Patterson has run BT since 2013 but investors lost confidence in him earlier this year amid a host of problems at the firm.
Mr Jansen's in-tray will include dealing with intense competition from rivals, an underperforming IT services unit, a huge pension deficit and criticism of its broadband roll-out plans.
Looking to cut costs, Mr Patterson announced 13,000 job cuts earlier this year, but when the firm failed to meet its targets in May its shares hit a six-year low.


Source BBC News