In its final ad of the 2018 election cycle, President Donald Trump's campaign highlighted the economic gains made under his administration, warning that they will be undone if voters hand the reins over to Democrats in the November midterm elections.
"Through vicious obstruction and mindless resistance, Democrats have proven that they will do anything to sabotage our Administration EVEN IF it means hurting the success of our country along the way," Trump claimed in a campaign email sent to supporters on Monday to accompany the ad. "We can only imagine what they'd do with legitimate power in our government. We can't hand Democrats the keys to Congress. We can't go back."
Notably, the 60-second television spot, which will run nationwide with a $6 million ad buy, doesn't feature Trump's face or voice. Instead, it is narrated by the mother of a young child as news footage of gloomy economic reports before Trump took office rolls on screen. 
"The future we're fighting for is not guaranteed," the narrator says in the ad.
The message is similar to that of then-Democratic presidential candidate Barack Obama, who told voters in 2008 that it was time to "look forward, not backward" amid the deepening economic recession and costly wars in the Middle East that began under President George W. Bush's administration.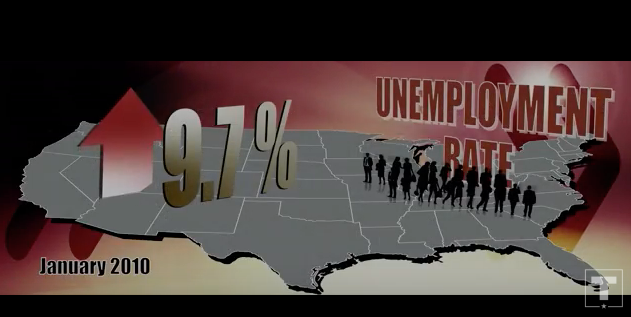 In Trump's ad, however, the president's campaign is using reports of high unemployment numbers and job lines dating as far back as January 2010 ― six months after the official end of the Great Recession ― to argue that Democrats can't be trusted to run the country. It does not show what happened in the years that followed ― a steady decline in the unemployment rate, one that continued at the same rate after Trump took office.
Obama mocked Republicans over their spotty memory regarding recent economic trends during a campaign rally in Las Vegas last week. 
"I just hope people kind of notice, every time there's a pattern, where they run things into the ground and we have to come back and clean things up," Obama said at the rally. "When you hear all this talk about economic miracles right now, remember who started it."
Trump's campaign is calling the ad his "closing sale to the American people" before Nov. 6, when his party is projected to lose control of the House. While he touts the economy in speeches and appearances on the stump, it is another, darker message that has dominated Republican campaign ads and mailers just days before the elections: fear.
Well-funded outside GOP groups, along with Republican candidates up and down the ballot, have run ads ― often laced with race-baiting rhetoric ― intending to scare voters about liberal "mobs," gangs, terrorists and migrant caravans. And with the country still reeling from back-to-back domestic terrorist attacks last week, Trump has decided to focus on what he says is the real cause of hate and division: the media.  




Source HuffPost