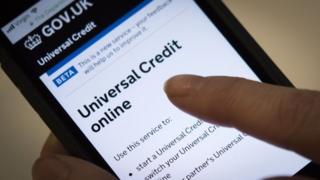 The new Work and Pensions Secretary Amber Rudd is poised to signal a shift in approach on the government's controversial universal credit benefits reform, the BBC understands.
The BBC's political editor Laura Kuenssberg said sources suggested there will not be a pause in the rollout of the single benefit due next summer.
But she said there will be a change in tone and a commitment to fix problems.
The ex-home secretary replaced Esther McVey after she quit over Brexit.
The plan is for almost seven million people to be on universal credit – which replaces six working age benefits – by the end of 2023.
But the new system has been hit by delays and claims it is forcing some claimants into destitution.
Labour has called for the next stage of the rollout – which will see 2.87 million people moved onto universal credit next summer – to be abandoned while the whole system is reconsidered.
Ms McVey announced earlier this month that claimants will be given more time to switch to the new benefit.
Among a number of other changes, she said they would not have to wait as long for their money and debt repayments would be reduced.
Ms Rudd will set out her position on universal credit when she answers questions from MPs about her department's work in the Commons.
In the Budget last month, Chancellor Philip Hammond announced an extra £1bn over five years to help those moving to the new payments and a £1,000 increase in the amount people can earn before losing benefits, at a cost of up to £1.7bn a year.


Source BBC News