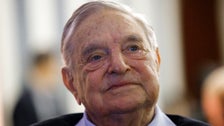 A U.S.-funded broadcasting operation is under investigation and some of its staff will be placed on leave after an incendiary program aired that viciously attacked liberal philanthropist George Soros.
A Spanish-language program in May on Radio Television Marti called Soros a "multimillionaire Jew" of "flexible morals," and it touted several false right-wing conspiracy theories about him, according to Mother Jones. The magazine first reported on the program Friday after videos were flagged in the Cuban Triangle blog.
The two-part, 15-minute program also said the State Department is "occupied" by Soros. It accused Soros of being responsible for the 2008 economic collapse and portrayed him as a "lethal" threat to Latin American democracy.2330 
Sen. Jeff Flake (R-Ariz.) called the program "taxpayer-funded anti-Semitism."
Videos of the program have been archived on YouTube (check out the segment above).
Radio Television Marti promotes U.S. interests and perspectives in news and propaganda broadcasts from Miami to Cuba. It's part of the Office of Cuba Broadcasting, which is supervised by the fully taxpayer-funded independent U.S. Agency for Global Media, which has launched the investigation. USAGM also supervises Voice of America and Radio Free Europe. Mother Jones reports that USAGM provided $24 million of its $770 million budget to the Office of Cuba Broadcasting last year.
Those "deemed responsible for this production will be immediately placed on administrative leave pending an investigation into their apparent misconduct," Lansing said. "Disciplinary action appropriate under federal law may then be proposed, including the potential removal of those responsible."
He added: "I am personally and professionally offended by this example of unprofessionalism."
Flake wrote a letter to Lansing on Monday calling it "irresponsible for any agency of the federal government to perpetuate unfounded conspiracy theories" at a time when "hate-filled rhetoric is having a devastating impact inside the United States."
Soros has long been a target of President Donald Trump, other Republicans and the extreme right. He's portrayed in conspiracy theories as a wealthy, conniving puppet master orchestrating American — and world — events. The characterization plays on well-known anti-Semitic attacks.
Trump said at a recent rally that the people protesting against the nomination of Brett Kavanaugh to the Supreme Court were paid "by Soros and others."
The right-wing Washington Beacon reported months before the Soros segment that Trump was annoyed that the USAGM wasn't pushing his administration's agenda. 




Source HuffPost