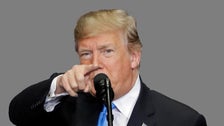 President Donald Trump said he's considering an executive order removing the right to citizenship for babies born in the U.S. to parents who aren't citizens.
"It was always told to me that you needed a constitutional amendment. Guess what? You don't," Trump said. "You can definitely do it with an act of Congress. But now they're saying I can do it just with an executive order."
He said the benefits awarded to babies born as birthright Americans are "ridiculous," and the system "has to end."
Birthright citizenship is enshrined in the Constitution's 14th Amendment, so an executive order challenging it would attract a legal battle.
Some view a change like Trump outlined as unconstitutional. Others, including John Eastman, a constitutional scholar who is director of Chapman University's Center for Constitutional Jurisprudence, told Axios that the amendment has actually been misinterpreted for 40 years. Originally, he said, it was only intended to apply to the babies of green card holders or citizens. 
Trump has long supported ending birthright citizenship, recommending in 2015 on the campaign trail that the country "start a process" to scrap it. 
"I don't think they have American citizenship and if you speak to some very, very good lawyers — and I know some will disagree — but many of them agree with me and you're going to find they do not have American citizenship. Our country is going to hell," Trump said then in an interview with CNN.
The president has lasered in on immigration ahead of next week's midterm elections, stoking fear about the caravan of migrants heading toward the U.S.-Mexico border from Central America. He has falsely claimed the caravan is stocked with criminals, gang members and Middle Eastern terrorists, and has threatened to cut off aid to Honduras, El Salvador and Guatemala, the countries where most of the migrants hail from.




Source HuffPost