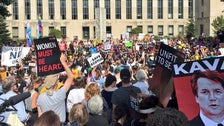 This is the last hurrah. The final fight. The desperate plea:
Thousands of protesters — including sexual assault survivors and their allies — were already gathered just after noon outside the E. Barrett Prettyman Federal Courthouse in Washington, where Supreme Court nominee Brett Kavanaugh currently works, in a last-ditch effort to appeal to the Senate to vote no on his confirmation.
HuffPost confirmed that busloads of women from other parts of the country — including survivors from West Virginia — were on their way to D.C. for demonstrations that would take place throughout the day.
Activists and feminist groups like the Women's March urged women across the country to walk out with them as the Senate vote to confirm Kavanaugh looms.
Caitlin Gaffin, 30, was one of them. She was among nine protesters arrested in West Virginia while occupying the campaign headquarters of Sen. Joe Manchin (D-W.Va.) for more than 10 hours on Monday. Today, with the help of the American Civil Liberties Union, she and several dozen other assault survivors and allies are scheduled to meet with Manchin and Sen. Shelley Moore Capito (R-W.Va.) to tell their stories.
"It feels like one of our last shots. This is the most we can do right now — drop everything and try to talk face to face," Gaffin told HuffPost on Thursday morning. "We're going to share our stories. We're hoping to be able to appeal to them in some way to show how personal this is for their constituents, for everyone."
Thousands of people prepared to march from Kavanaugh's courthouse to the Supreme Court to protest his potential confirmation. Speeches by celebrities like Alicia Keys and Whoopi Golberg are planned. Additional #CancelKavanaugh protests are slated across the country, from Portland, Oregon to New York City.
Activist groups across the country have been holding demonstrations all week, ever since Kavanaugh lied under oath during testimony in front of the Senate Judiciary Committee, ever since Christine Blasey Ford cried in front of millions of TV viewers when she publicly accused him of forcing himself on her in high school.
Since then, other women have come forward against the judge, and many of his former classmates have tried to distance themselves from him or backed up claims by his alleged victims.
The vote was delayed last Friday by Sen. Jeff Flake (R-Ariz.), who called for an FBI investigation into the accusations against Kavanaugh. With less than a week to look into them, the bureau focused on only a few allegations, which reportedly included an interview with another of Kavanaugh's accusers, Deborah Ramirez. Not included in the investigation were Kavanaugh, Ford, classmates who had told the press that he was a "sloppy drunk" in school or allegations that he lied under oath about his excessive drinking.
Senate Majority Leader Mitch McConnell (Ky.) vowed that a full Senate vote will happen this week. There's already talk that the short delay requested by Flake was a sham, meant to make it easier for Republicans to vote in Kavanaugh with an unscathed conscience or character.




Source HuffPost