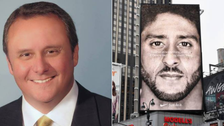 The mayor of a Louisiana town has banned Nike products from city recreation facilities, days after the sports apparel company hired former NFL quarterback Colin Kaepernick for its new advertising campaign.
Kenner Mayor E. Ben Zahn III's order, dated Wednesday, also demands that purchases made by sports booster clubs for "apparel, shoes, athletic equipment and/or any athletic product" for use at city recreation facilities be approved by the city.
"Under no circumstances will any Nike product or any product with the Nike logo be purchased for use or delivery at any City of Kenner Recreation facility," the mayor wrote.
In a Facebook post on Sunday, Kenner City Councilman Gregory Carroll described the mayor's memo as "disturbing" and said he was "100% AGAINST this decision." 
"I was not made aware of this decision beforehand and it is in direct contradiction of what I stand for and what the City of Kenner should stand for," Carroll said. "I will meet with the Mayor and other Council members in an effort to rescind this directive."
The mayor "just got caught up in all this stuff and made a move off the cuff," Carroll added to BuzzFeed. 
"I was in church when I received a copy of the letter from the Mayor of Kenner," Banks wrote. "I have never felt a need to purchase one of these before but I am compelled now."




Source HuffPost