President Donald Trump struggled mightily Tuesday to explain a new tax cut proposal he first mentioned in an offhand remark last week.
"I would have put it into the original bill," Trump said, referring to the Tax Cuts and Jobs Act, which he signed into law last December. "But we couldn't have done it originally because we ― you know, we've become ― I mean, we're doing really well. The numbers are really good."
Since the president has described the proposal as benefitting the middle class, the reporters asked how he would define middle class, which is always a controversial tax topic.
"Well, we'll define it," Trump said.  "We'll have to ― we'll have to define that. I mean, there is a definition, but we'll make sure the definition is right."
Asked again how he would define middle class, Trump rambled some more, bragging about the economy. The reporters asked if the economy's so good, why do another tax cut? And would the tax change be revenue neutral?
Finally, Trump gave up. "In fact, if you call Kevin Hassett, let him tell you, because I was going over it," the president said, referring to his top economic adviser. "Kevin will give it to you."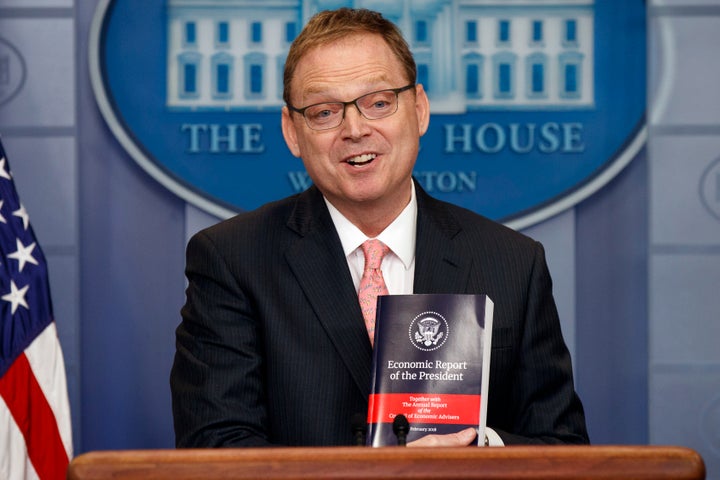 It just so happens that reporters did ask Hassett about the mysterious new tax cut on Tuesday morning. He said it was something only Trump had talked about. "You should go to the press office and to the president if you want more information on that," Hassett said.
The press office has not provided any additional information. It's almost as if there is no proposal at all, and that many people in Washington have been chasing a stray bit of fake news.
"It's campaign rhetoric that somehow got out of control," said Howard Gleckman, a senior fellow with the Tax Policy Center.
"The thing that's amazing to me is this keeps happening and all the policy reporters in town kind of take it seriously," he added, pointing out that Trump has previously made slippery promises about taxes, immigration plans and health care.
It all started with something Trump said during a campaign rally in Elko, Nevada, last Thursday. "Don't forget the big tax cuts," he said, to applause. "And we're going to get you more."
Before he flew back to Washington, a reporter asked what he meant by "more." Rather than say Republicans generally support lower taxes, Trump got specific: He said Republicans were working on "a very major tax cut for middle-income people."
Then on Monday, Trump said Republicans would give the middle class a 10 percent tax cut in the next week or two. When a reporter pointed out that Congress won't be back until after the election, Trump said, "We won't have time to do the vote. We'll do the vote later."
On Tuesday afternoon, Brady said congressional Republicans would indeed work on a new tax bill ― but with the huge caveat that it would only happen if Republicans retain control of both the House and Senate following November's midterm elections.
Brady's Senate counterpart, Sen. Orrin Hatch (R-Utah), said Wednesday it's highly unlikely that Congress would do a new tax bill after the election. He also implied that no bill currently exists ― though he said one might exist later. "I've seen miracles happen before," he said, according to the Washington Post.




Source HuffPost