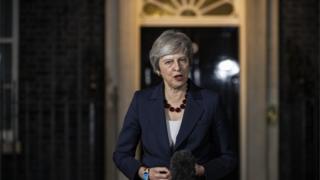 The prime minister is due to arrive in Northern Ireland later as part of a two-week push to sell her Brexit deal.
The terms of Theresa May's withdrawal agreement were approved by the 27 other EU leaders at a summit on Sunday.
She is expected to meet politicians at Stormont House.
The DUP has said it will vote against the deal. The SDLP, Alliance, Sinn Féin and the Green Party, who are all anti-Brexit, have welcomed the draft deal.
The DUP has said it will review its parliamentary pact with the Conservatives – which props up Mrs May's government – if the deal is approved by MPs.
Labour leader Jeremy Corbyn has said his party will oppose it, calling it "the worst of all worlds".
Analysis
by Mark Devenport, BBC News NI political editor
Theresa May visited County Fermanagh in July to hear first hand the problems Brexit might pose for local businesses.
Mrs May argues her Brexit deal will allow such firms to trade freely across the border and enjoy full access to the rest of the UK.
When she meets the Stormont parties, the prime minister is expected to urge the politicians to listen to those local employers who have already got behind her deal.
Mrs May is also expected to visit Queen's University Belfast to talk to students, academics, church and community leaders.
She faces an uphill struggle in getting her deal through Parliament, but she is hoping to change the tone of the debate around the Brexit agreement by doing her best to sell it across the UK.
Sinn Féin deputy leader Michelle O'Neill, SDLP leader Colum Eastwood, Green Party leader Clare Bailey and Alliance deputy leader Stephen Farry met members of the business community at Stormont on Monday.
The prime minister has pledged to put her "heart and soul" into convincing MPs to back the terms of the UK's withdrawal from the EU.
Meanwhile Ulster Unionist Leader, Robin Swann MLA, has called on the prime minister to put plans in place for the extension of Article 50 rather than "risk the future of the Union for the sake of meeting a deadline".
Parliament will decide whether to accept or reject the package in a vote on 11 December.
Mrs May's campaign – which saw her appeal to the public in a "letter to the nation" at the weekend – could also include a TV debate with Mr Corbyn, the Daily Telegraph has reported.
The UK is scheduled to leave the EU on 29 March 2019, whether the deal is sanctioned or not.


Source BBC News