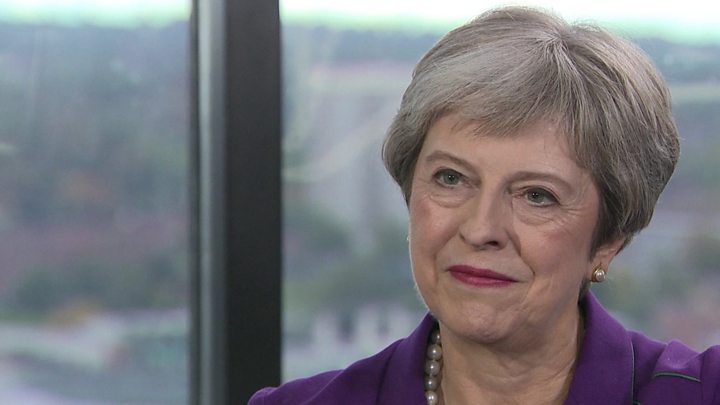 Theresa May has told the BBC she is "cross" with Boris Johnson after the former foreign secretary launched a fresh attack on her plan for Brexit.
The PM said Mr Johnson, who addressed an audience of more than 1,000 people at the Tory conference, could always be relied upon to put on a "good show".
But she said parts of his speech about Northern Ireland angered her.
"He wanted to tear up our guarantee to the people of Northern Ireland. Northern Ireland is part of the UK."
Mr Johnson, who quit the cabinet in July in protest at Brexit policy, was cheered by activists when he urged Mrs May to drop her plan for future co-operation with the EU.
In a speech in Birmingham, he argued her blueprint, called the Chequers plan, was "undemocratic" as it kept the UK within the "tractor beam" of Brussels and was not what people voted for.
Urging Mrs May to return to the vision she originally set out in her Lancaster House speech in early 2017, he warned "if we get it wrong we will be punished".
But Mrs May told the BBC's political editor Laura Kuenssberg that she was putting the national interest first in the negotiations.
Her plan, she said, was the only one that would minimise disruption to trade while also upholding the UK's territorial integrity and Northern Ireland's constitutional status within the UK.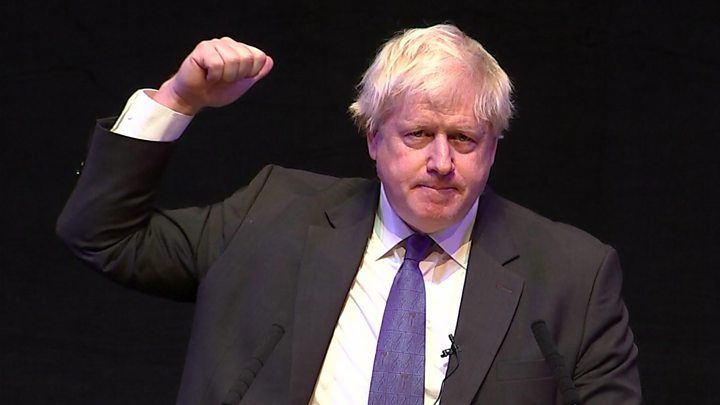 Proposals put forward by the EU and others which did not do that were unacceptable, she said.
"There are one or two things that Boris said that I am cross about," she said.
"You know we, he and I are all members of the Conservative and Unionist Party. That's because we believe in the union of the United Kingdom.
"Northern Ireland is part of that union. And we have a guarantee for the people of Northern Ireland and we are upholding that. Our Chequers plan does that it's the only plan on the table at the moment that does."
Pressed on whether she believed Mr Johnson, who has long been seen as having ambitions to replace her, was undermining her authority, she replied:
"There's one thing we all know about Boris is that he'll put on a good show.
"But what we've been doing here at conference of course and I think what matters to people out there is what the government does and what we focus on in terms of their day to day lives and what really matters to them."


Source BBC News