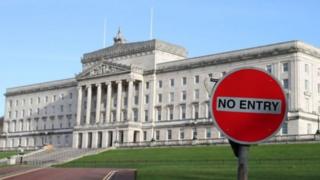 An all-party roundtable briefing at Stormont has been criticised by party leaders as a "waste of time" and a box-ticking exercise.
Alliance Party leader Naomi Long said the meeting was "counter-productive".
"I think relationships between parties, and indeed the secretary of state, are possibly now at an all-time low," she said.
The five Northern Ireland parties met Northern Ireland Secretary Karen Bradley on Thursday.
Northern Ireland has been without a government since it collapsed in January 2017.
The latest talks process aimed at restoring devolved government fell apart in February.
'Absolute nonsense'
Thursday's meeting was described as an all-party briefing with a view to restarting the talks process.
However, Alliance leader Naomi Long said Karen Bradley was "putting barriers in the way of restoration" by "demanding there is consensus, all-party agreement on the format of the talks".
"This is absolute nonsense," she said.
"The secretary of state has already taken the views of all parties regarding how talks should be structured, the responsibility now lies with her to make a decision to convene the talks and to get us back in the room."
SDLP leader Colum Eastwood said the meeting was a "waste of time" and signalled an "embarrassing day" for Northern Ireland.
"I should have stayed in Derry," he added.
'Belligerence'
Ulster Unionist leader Robin Swann said the meeting was "badly advised".
"To be honest, it was simply so someone in the NIO (Northern Ireland Office) can tick a box so they can say they brought all five parties around the table," he added.
Mr Swann also accused Sinn Féin of complete belligerence that "questions their validity as to whether they want to be part of a meaningful talks process".
Sinn Féin said there was no basis for moving forward following the meeting.
John O'Dowd and Máirtín Ó Muilleoir said they attended a meeting to see if power-sharing could be re-established but that it was "clear" the British government was "still treating large sections" of Northern Ireland with contempt.
They refused to answer any questions from the media.


Source BBC News