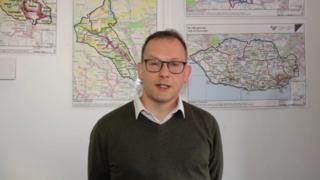 A row has broken out after a video featuring a barmaid wearing a low-cut top with an AM's head superimposed on it was deemed to not be sexist.
The video about Labour's Joyce Watson was posted on YouTube by UKIP assembly group leader Gareth Bennett.
He referred to the fact Ms Watson used to run a pub, and made derogatory comments about her appearance.
She complained to the assembly's standards commissioner who decided it was not sexist or misogynistic.
There have now been calls for Sir Roderick Evans, who took up the role in 2016, to reconsider his decision.
In the video Mr Bennett, who represents South Wales Central, said Ms Watson used to run a pub but "you wouldn't guess that from looking at her".
He added: "She doesn't look like the life and soul of the party. I'm not sure I would fancy popping in for a quick one at the local if I saw her pulling pints at the bar."
Following the commissioner's decision, Ms Watson, the AM for Mid and West Wales, wrote to him saying: "You do not find it to be 'sexist or misogynistic'.
"I appreciate that you are not the 'arbiter of the level of political debate'.
"However, I maintain that the video falls outside the parameters of robust debate – and that the allusion to 'buxom barmaids' is inherently sexist.
"Subjective as these things are, though, I believe it would have been appropriate to refer my case to the Assembly's Standards Committee, for wider consideration, especially in light of the new Dignity and Respect policy."
AMs from the three main parties have told the BBC's Wales Live programme they think the video is sexist.
Plaid Cymru's Bethan Sayed, AM for South Wales West, said: "I think with all due respect the standards commissioner himself probably hasn't experienced sexism or misogyny in his lifetime and I think if you're a woman and you've been treated in that way then I think they would rightly say 'that's sexist'.
"I don't think that has a place in Welsh politics at all and that decision should really be reconsidered."
Gwendolyn Sterk, from Welsh Women's Aid, also wants the commissioner to explain how he reached the decision which she said sends the wrong signal.
"It will definitely impact on the confidence women have [in the system]," she said.
"We know young women are put off going into politics purely because of the online abuse they experience and we know that's a significant reality for women."
A spokesman for the standards commissioner said: "The commissioner does not comment on individual cases and has no further comment to make at this time."
Watch Wales Live at 22:35 BST on Wednesday on BBC One Wales


Source BBC News