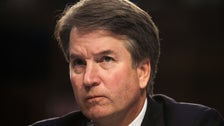 A woman accused Kavanaugh of locking her in a room and allegedly attempting to force himself on her at a party while they were both in high school, The New Yorker reported Friday. The woman had earlier sent a letter regarding the accusation to Sen. Dianne Feinstein (D-Calif.). Kavanaugh has "categorically" denied the allegation.
Durbin tweeted that the Me Too Movement has "taught us" to "respect and listen to survivors of sexual assault, regardless of the age of those involved or when the alleged attack took place."
Durbin also complained about other aspects of the confirmation process, including "misleading or inaccurate answers" by Kavanaugh, and that Republicans continued to keep secret documents relating to Kavanaugh's work as staff secretary to former president George W. Bush.
A Washington Post opinion piece Saturday, written by deputy editorial page editor Ruth Marcus, who attended the Clarence Thomas-Anita Hill hearings, also called for a thorough vetting of the allegations against Kavanaugh — but only if his accuser is willing to come forward. If so, both she and Kavanaugh should be interviewed by the FBI, and then the committee, Marcus wrote. 
"Speed is not of the essence for a lifetime appointment this consequential. Getting at the truth, as best and imperfectly as it can be ascertained, is," Marcus concluded.
A Washington Post editorial also called for a vote delay — not because of the accusation against Kavanaugh but because of the documents related to Kavanaugh's work as staff secretary that remain secret. 
Voting should be postponed until after a fair assessment of the files by a nonpartisan entity produces germane documents to release to the Senate," urged the editorial.




Source HuffPost