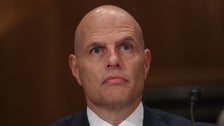 President Donald Trump's newest pick to lead Immigration and Customs Enforcement has come under fire from top Republican lawmakers and the agency's union, in part because of a 2016 tweet critical of the president.
A Senate committee delayed a vote on the nomination of Ronald D. Vitiello as the new director of ICE on Wednesday, The Washington Post reported. He was previously the head of the U.S. Border Patrol — a position given to him by Trump in 2017.
While Vitiello has the backing of prominent Homeland Security officials, local chapter leaders of the National ICE Council, which represents agency employees, have expressed concerns that Trump's pick will be unable to end the "corrupt 'good old boy' network" plaguing the agency, they said in a statement given to The Washington Times.
Among their concerns were a 2016 tweet from @VitielloRonald, an unverified account, comparing then-candidate Trump to Dennis the Menace — which Gizmodo first reported last year. The tweet has since been deleted.
Sen. Ron Johnson (R-Wis.), the committee's chairman, said the committee will perform its due diligence into the issues raised by the union reps. In their letter, they said Vitiello has been with ICE "for a short period of time" and they are "aware of several matters that give us serious concern about him."




Source HuffPost