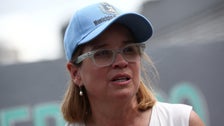 Trump's denial that nearly 3,000 people died as a result of the September 2017 storm, determined by a government report, amounts to "denial following neglect," Mayor Carmen Yulín Cruz tweeted. Trump blamed Democrats for reporting large figures in order to make him look bad. 
"YOUR LACK OF RESPECT IS APPALLING!" the mayor continued. She called Trump "delusional, paranoid, and unhinged from any sense of reality," and "so vain he thinks this is about him."
Trump has been using the lead-up to Hurricane Florence, set to make landfall in the Carolinas Thursday, to claim a stellar response by his administration to storms last year, when Harvey, Irma and Maria lashed parts of the U.S., causing thousands of deaths and billions in damage. 
Trump on Wednesday referred to his administration's handling of last year's storms in Florida and Texas as deserving of "A Pluses," and lamented that government efforts in Puerto Rico were "unappreciated" and an "unsung success."
Trump and his administration have been criticized for a lax response to the Puerto Rico devastation and denial of the extent of the death and damage. Trump, instead, blamed the island for not preparing itself.
Trump and Cruz have traded barbs since last year. Cruz has attacked the president for failing to take the island's needs seriously. He has accused the mayor and other officials of wanting "everything to be done for them when it should be a community effort."




Source HuffPost