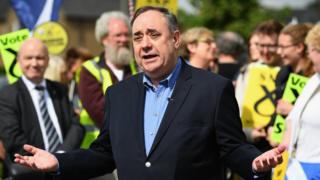 Two people have made sexual harassment complaints against Scotland's former first minister Alex Salmond. The complaints, which he denies, relate to his time in office. Why have they come to light now?
Why are the allegations being made now?
In November, in the wake of the Harvey Weinstein scandal and the #Metoo movement, there were concerns over reports that women at all levels in the Scottish Parliament had experienced harassment.
At the same time, MPs at Westminster were accused of intimidating or propositioning young women inappropriately.
Scotland's First Minister Nicola Sturgeon called for an internal review to be carried out of the Scottish government's procedures for handling complaints in the workplace.
As part of that review, a new procedure on handling harassment complaints involving current or former ministers was introduced.
Two complaints in relation to Mr Salmond were made in January of this year.
According to the Daily Record, they relate to events in 2013 when he was first minister.
Scotland's top civil servant, Leslie Evans, informed Mr Salmond on Wednesday 22 August that she was considering the public interest in making the fact of the complaints and investigation publicly known.
Mr Salmond, who was Scottish first minister from 2007 to 2014 and oversaw the independence referendum, instigated legal action aimed at preventing the Scottish government revealing details of its investigation but later dropped those proceedings.
The next evening, Mr Salmond put out a statement denying claims of harassment and saying he was launching a court action to contest the Scottish government's complaints process.
What are the allegations?
The details of the claims of sexual harassment and who made them have not been officially released.
The Scottish government's permanent secretary, Ms Evans, would only confirm that two complaints of sexual harassment had been made against Mr Salmond.
The Scottish government insisted the investigation had been "entirely confidential".
However, the Daily Record, which broke the story on Thursday 23 August, later claimed to have seen the wording of an allegation by a Scottish government staff member.
It says she alleges Mr Salmond touched her bottom and breasts through her clothing while she was alone with him at at the first minister's official residence, Bute House, in December 2013.
Police Scotland has confirmed that it is "carrying out an assessment of information which we have received and inquiries are at an early stage".
Mr Salmond has strongly denied any claims of harassment or criminality.
He also accused someone in the Scottish government of "sustained leaking" of the "most unfair kind".
He said it was "crucial" to find out who in government was responsible.
Why is Mr Salmond going to court?
The former first minister was told in March this year that allegations had been made against him and he had been assured that the process would be confidential.
He claims he has still not been allowed to see the evidence against him.
His statement called the procedure "unjust" and said he had not been able to properly challenge the case against him.
Mr Salmond said the procedure, put into operation by Ms Evans three years after he left office, was "grossly unfair" and would lead to prejudicial outcomes.
On Wednesday 29 August, Mr Salmond lodged a petition with the Court of Session in Edinburgh seeking a Judicial Review.
It will decide the issue of the lawfulness of the procedure.
The court will now seek a response from the Scottish government. It is likely to be some weeks before there is a hearing before a judge.
Did Nicola Sturgeon know about the claims?
First Minister Nicola Sturgeon said she became aware in April that Mr Salmond was being investigated.
In fact, it was Mr Salmond himself that told her.
She said she had no prior knowledge of complaints being made against him.
Ms Sturgeon said she had taken "no role in the process" and not spoken about it publicly because she did not want to compromise the internal investigation.
She said the fact that complaints were made could not be ignored or swept under the carpet."
Why did Mr Salmond resign from the SNP?
Mr Salmond announced on Wednesday 29 August he was resigning from the SNP.
The ex-first minister said he intended to apply to rejoin the party once he had an opportunity to clear his name.
He said he was quitting because he wanted to avoid potential divisions within the party, which has faced calls to suspend him.
What happens next?
A Judicial Review will consider whether a proper "decision-making process" was followed by the Scottish government.
It will not look at whether or not the "correct" decision was made.
The court will seek to ensure that principles of natural justice and fairness have been followed.
Before the review can be heard Mr Salmond must appeal to the Court of Session for permission to proceed.
Permission will only be granted where the Judicial Review has "a real prospect of success".
His petition was formally lodged with the court earlier this week, and the Scottish government will now have an opportunity to respond.


Source BBC News