The conventional wisdom at the start of the 2018 election cycle was that Democrats had just about as bad a Senate map as they could get. The party had to defend 26 Senate seats, whereas Republicans had just nine.
And in even worse news, 10 of the Democratic seats seen as vulnerable were in states that Donald Trump won in the presidential election.
Democrats are considered a long shot to win back a majority in the Senate. But they'll likely stave off worst-case scenarios by proving stronger than expected in the Rust Belt, in four states that should have been competitive for Republicans, in light of Trump's performance in 2016.
Trump won Montana, Missouri, Indiana and North Dakota by double digits, and they were always expected to be the toughest seats for Democrats to defend. They still are, with tight races in all four states, although Montana is leaning more heavily Democratic. West Virginia is another state where Trump walloped Hillary Clinton, but Democratic Sen. Joe Manchin appears likely to hold on there.
Republicans, however, were hoping for something of a realignment in Michigan, Ohio, Pennsylvania and Wisconsin. Barack Obama won those states in 2012, but Trump won them in 2016. Democrats, the thinking went, weren't appealing to working-class white voters anymore, and the Trump brand could help win back some Senate seats as well.
But that strategy may not be panning out. All four Senate seats look as if they'll remain in Democratic hands after Tuesday. In his packed travel schedule between now and Election Day, Trump isn't even going to Michigan, Pennsylvania or Wisconsin.
"It's telling us that the world didn't turn upside down as much as we thought in 2016," said Matt Morrison, the executive director of Working America. The organization, a nonunion affiliate of the AFL-CIO, has more than 1.7 million members in the Midwest and is known for its on-the-ground canvassing of workers.
These Rust Belt states, in other words, aren't suddenly red states just because they went for Trump.
"The voters in these states, who put Trump over the top, were loyal to him, not congressional Republicans," said a Democratic aide who requested anonymity. A Republican strategist who also requested anonymity agreed, predicting the GOP could do much better in those states with Trump at the top of the ticket.
Republican Senate candidates are not Trump. He was aided by a heavy amount of earned media that Rep. Jim Renacci in Ohio and John James in Michigan aren't getting. Also, Trump's victories in those states were quite narrow, and the president's party usually takes a hit in midterm elections.
And the Republican candidates in these states have proved weak.
"These races show how Democrats shifted a challenging Senate map," said David Bergstein, a spokesman for the Democratic Senatorial Campaign Committee. "The strength of our incumbents in these states — coupled with Republican recruitment failures, divisive primaries and disappointing nominees — cut the GOP's targets in half."
The world didn't turn upside down as much as we thought in 2016.
Matt Morrison, executive director, Working America
The disappearance from the Senate map of these states, all of which contain major media markets, freed up cash for Democrats to help defend Sens. Bill Nelson in Florida and Bob Menendez in New Jersey. Both men face Republican self-funders who have put tens of millions of dollars into their campaigns, but the incumbents are expected to survive the onslaught. The apparent safety of the Rust Belt races also allowed Democrats to boost Arizona Rep. Kyrsten Sinema and former Tennessee Gov. Phil Bredesen to try to pick off GOP-held seats.
The Democratic senators didn't have to go through nasty primaries and were able to focus on the general election ― unlike in Wisconsin, where state Sen. Leah Vukmir (R) fought a tough battle with veteran Kevin Nicholson. Sen. Ron Johnson (R-Wis.) even urged one of them to drop out for the good of the party. While Nicholson had oodles of cash from GOP megadonor Richard Uihlein, Vukmir has struggled to raise money since winning the primary.
In Pennsylvania, Rep. Lou Barletta has run as a Trump loyalist in a state Trump won by less than a percentage point. Barletta has also struggled to raise money, and his close association with the president is proving poisonous in suburban areas where GOP Sen. Pat Toomey tallied well ahead of Trump in 2016.
In Ohio, state Treasurer Josh Mandel was widely expected to be the GOP nominee for Senate, and he ran against Brown in 2012, in that year's most expensive Senate contest. But Mandel dropped out of the race in January, forcing Republicans to find a new candidate. Renacci has struggled to gain traction and has faced numerous bad headlines ― memorably, "Jim Renacci defends flying on strip club owner's plane to meeting with faith leaders." Many GOP strategists, however, never had much hope of defeating a candidate whose populist record appeals to crossover voters the way Brown's does.
Michigan's Democratic DNA ― Trump won it, but by just over 10,000 votes ― always made it a second-tier pickup opportunity for Republicans. They aggressively recruited Kid Rock for the contest, hoping for a wild card candidate to challenge well-liked Sen. Debbie Stabenow. They ended up with an impressive candidate in James, an African-American businessman and veteran. But he has struggled to build name identification and has trailed in polls by significant margins.
But perhaps most important, the agenda that the Republicans in Congress have been pushing is a mismatch for the priorities of many voters in these states.
Democrats have been hammering away on health care and the GOP-passed tax law. While Republicans thought that the tax law ― which passed temporary tax cuts for individuals and massive permanent ones for corporations ― would be a huge selling point for them in the midterm elections, it has proved incredibly unpopular in working-class areas.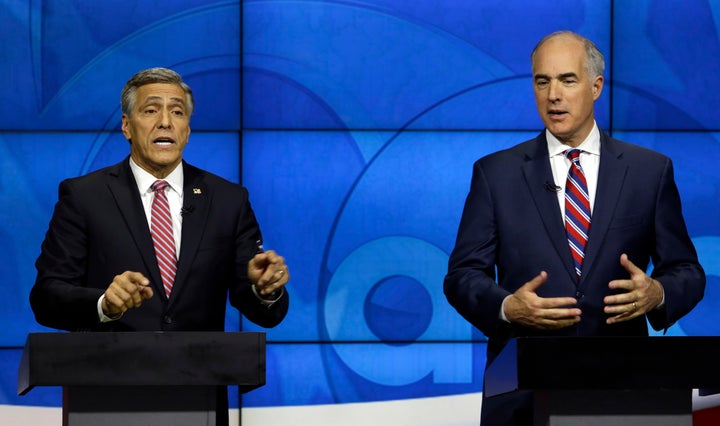 And for the first time since the Affordable Care Act passed in 2010, Democrats are on the offense about Republican attempts to repeal and replace the popular health care law. Morrison said the issue of health care has topped the list of concerns of people his canvassers talked to.
"What we've tried to do is not make it an 'us versus them' but 'what's on your mind?' … And for us, that's really been centered on health care and access to affordable health care," said Morrison.
Charles Franklin, a pollster with Marquette University Law School, said he has seen Baldwin consistently beating Vukmir in the polls, in large part aided by the issue of health care and pre-existing conditions.
"These are not candidates that live by the polls and change direction when the wind changes directions," said AFL-CIO President Richard Trumka, who said health care and retirement security are the issues he hears about most. "Sherrod Brown has been a staunch defender of working people first, last and always. Everyone knows that. They trust him and respect him. Same with Bobby Casey and [Stabenow]."
Making these Rust Belt states less competitive has paid dividends for Democrats. Many of those states — particularly Pennsylvania, with its expensive Philadelphia media market — are costly to compete in. By not having to spend so much on those races, they were able to shift resources to other states. Republicans, similarly, decided to compete in the cheaper races they were more likely to pick up.
So far, neither party's outside groups have spent a dime in Pennsylvania, Ohio and Michigan. By comparison, when Democrats were trying to oust Sen. Pat Toomey (R-Pa.) in 2016, outside groups spent $17 million supporting Katie McGinty and $59 million opposing Toomey.
"There was an expectation that Democrats would really be hung out to dry this year," said Morrison. "And that's not turned out to be the case."




Source HuffPost