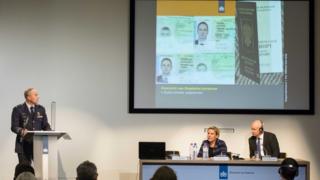 Russian cyber intelligence officers tried to hack the UK's Foreign Office, a British diplomat has said.
Peter Wilson, the UK ambassador in The Hague, said Russian intelligence officers tried to compromise Foreign Office systems with an attack in March.
The accusation comes after Dutch security services said they expelled four Russians over a cyber plot against the global chemical weapons watchdog.
That watchdog, based in the Hague, was examining the 4 March Salisbury attack.
In a statement with Dutch Prime Minister Mark Rutte, Theresa May said "joint operations" had shone "further light on the unacceptable cyber activities of the Russian military intelligence service, the GRU".
Mrs May said the attempted hack of the Organisation for the Prohibition of Chemical Weapons (OPCW) demonstrated the GRU's "disregard for the global values".
Targeting of the OPCW headquarters followed unsuccessful attacks by the GRU on the Foreign Office and on the defence laboratories at Porton Down, which was also investigating the Salisbury poisoning.
---
Analysis
By BBC diplomatic correspondent James Landale
Today's astonishing revelations show how much the UK and its allies are prepared to co-operate to maintain pressure on Russia.
The British government could have sat back after it persuaded 28 countries to expel more than 150 Russian diplomats and intelligence agents in the wake of the Salisbury attack.
But it went further, revealing the identities and pictures of the two Russia spies it believes were responsible for poisoning the Skripals.
And now the UK and the Dutch governments have revealed a huge amount of new intelligence about how the GRU has been operating across the world.
The aim of this highly unusual openness is to counter Russian behaviour by exposing their operations to the world.
But for the British, there is also a wider message: namely that the UK will continue to co-operate with its European partners in the fight against Russian aggression.
---
Earlier, the UK government accused the GRU of being behind four high-profile cyber-attacks whose targets included included firms in Russia and Ukraine; the US Democratic Party; and a small TV network in the UK.
Russia has called the accusations a "diabolical cocktail" of allegations.


Source BBC News