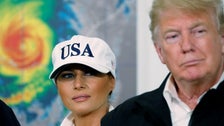 First lady Melania Trump is once again boldly staring irony in the face by hosting a film screening as part of National Bullying Prevention Month.
Trump will present "Wonder" at the White House for a group of sixth-graders on Tuesday, reported The Hill. The 2017 film explores the experiences of a little boy with facial disfigurations who is confronted by bullies at school.
"The movie celebrates October's National Bullying Prevention Month by highlighting the importance of choosing kindness — a core belief of Mrs. Trump's Be Best campaign," the first lady's office said in a statement announcing the event.
Twitter users had some advice for the first lady ahead of the "Wonder" screening: Talk to your husband about bullying.




Source HuffPost