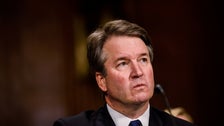 The report, sent by the White House to the Senate Judiciary Committee in the middle of the night, was denounced by Democrats as a whitewash that was too narrow in scope and ignored critical witnesses.
Thousands of anti-Kavanaugh protesters rallied outside the Supreme Court and entered a Senate office building, holding signs such as "Believe Survivors" and "Kava-Nope." Hundreds of demonstrators were arrested, including actress Amy Schumer.
But Republicans moved forward with plans for a key procedural vote on Friday and a final vote on Saturday on confirming the conservative federal appeals judge for a lifetime job on the top U.S. court.
The timing of the vote could be complicated by Republican Senator Steve Daines, whose office said on Thursday he planned to attend his daughter's wedding in Montana on Saturday, making him unavailable to cast his vote.
Republicans control the Senate by a 51-49 margin. With Daines out of the picture, the party would need every other Republican to vote for Kavanaugh for him to be confirmed in a Saturday vote in the event all Democrats oppose him.
No Republicans have said they will vote against Kavanaugh, although four have not committed to supporting him.
Comments by two of them – Jeff Flake and Susan Collins – indicated the FBI report, which was the latest twist in the pitched political battle over Kavanaugh, may have allayed their concerns about him. Flake, a frequent Trump critic, was instrumental in getting the president to order the FBI investigation last Friday.
Trump, himself accused by numerous women during the 2016 presidential race of sexual misconduct, wrote on Twitter that the FBI report showed that the allegations against Kavanaugh were "totally uncorroborated."
Collins said the FBI investigation appeared to be thorough. Flake said he saw no additional corroborating information against Kavanaugh, although he was "still reading" it. Another undecided Republican, Senator Lisa Murkowski, did not offer her view on the FBI report.
Cory Gardner, a Republican from Colorado, wants to finish reading the report before he makes a decision, his spokesman Casey Contres told the Denver Post. Gardner's spokesman did not respond to a request for comment from Reuters.
While the comments by Flake and Collins were positive, neither explicitly announced support for Kavanaugh.




Source HuffPost