The man accused of committing a deadly mass shooting at a Pittsburgh synagogue on Saturday was an avowed anti-Semite who police say announced his presence by shouting "All Jews must die!" before he opened fire.
Robert Bowers allegedly shot and killed at least eight people and wounded others at the Tree of Life Congregation, which was full of people at the time. Police said he entered the building, made the anti-Semitic declaration, opened fire, and then barricaded himself inside before he was taken into custody.
Pittsburgh Public Safety Director Wendell Hissrich said at a press conference Saturday afternoon that the shooting would be investigated as a federal hate crime.
While a motive hasn't been made official, it's clear from Bowers' online persona that he was a racist who held a deep hatred for Jewish people.
He was active on Gab, a social media platform popular among neo-Nazis, and regularly posted racist and anti-Jewish sentiments. His biography on the site said: "jews are the children of satan."
Less than two hours before the shooting, he railed against the Hebrew Immigrant Aid Society in increasingly desperate posts, saying that he'd had enough of the "hostile invaders" and was "going in."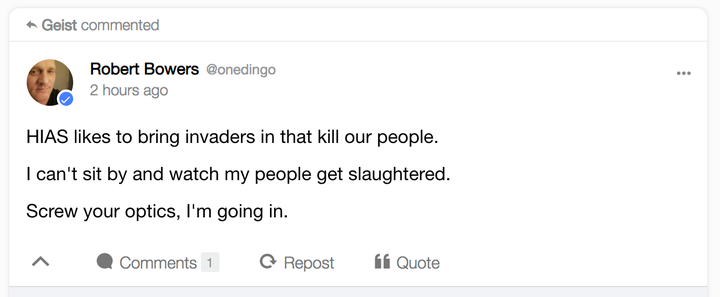 "HIAS likes to bring invaders in that kill our people. I can't sit by and watch my people get slaughtered. Screw your optics, I'm going in," he wrote.
His profile was taken down shortly after 11:30 a.m. But archives of his activity on the platform showed that he was an anti-Semite who was critical of President Trump for not being a true "nationalist," and openly discussed the QAnon conspiracy theory, a dangerous, all-encompassing conspiracy web that started online and has since wormed its way into real life. He regularly reposted neo-Nazi content and openly lambasted diversity.
"There is no #MAGA as long as there is a kike infestation," he wrote on Thursday. "#Qanon is here to get patriots that were against martial law in the 90′s to be the ones begging for it now to drain muh swamp."
He had also commented on the capture of Cesar Sayoc, who was arrested in Florida on Friday after allegedly sending more than a dozen explosive devices to various high-profile Democrats, including Bill and Hillary Clinton, Barack Obama and George Soros. He poked fun at Sayoc's garish van, which was covered in pro-Trump and anti-Democrat stickers, as well as conspiracy theories and memes.
Gab released a statement after the shooting, saying that the site doesn't allow for calls to violence:
"Gab.com's policy on terrorism and violence have always been very clear: we a have zero tolerance policy for it. Gab unequivocally disavows and condemns all acts of terrorism and violence. This has always been our policy. We are saddened and disgusted by the news of violence in Pittsburgh and are keeping the families and friends of all victims in our thoughts and prayers."
Jonathan Greenblatt, CEO of the Anti-Defamation League, said authorities were still trying to learn the "extent of this anti-Semitic attack."
"We are devastated," he wrote on Twitter. "Jews targeted on Shabbat morning at synagogue, a holy place of worship, is unconscionable. Our hearts break for the victims, their families, and the entire Jewish community."




Source HuffPost