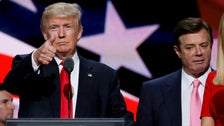 WASHINGTON ― Former Trump campaign chairman Paul Manafort has reached a plea deal with the special counsel team led by Robert Mueller and will be pleading guilty to two counts.
The special counsel team filed a court document against Manafort in Washington ahead of a plea hearing later Friday morning. 
The court filing, according to the special counsel's office, "alleges a conspiracy against the United States (money laundering, tax fraud, failing to file Foreign Bank Account Reports, violating the Foreign Agents Registration Act, and lying and misrepresenting to the Department of Justice) and a conspiracy to obstruct justice (witness tampering)."
The details of the plea deal ― including whether it indicates that Manafort has to cooperate with Mueller's team, and what sentence he's likely to receive ― are not yet available.
Read the court filing below:
This is a developing story. Please check back for updates.
Ryan Reilly is HuffPost's senior justice reporter covering the Justice Department, federal law enforcement, criminal justice and legal affairs. Have a tip? Reach him at ryan.reilly@huffpost.com or on Signal at 202-527-9261.




Source HuffPost