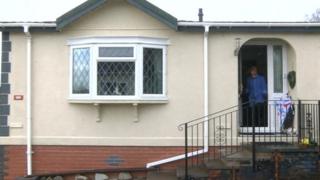 Mobile home site owners in England who harass and financially exploit residents could have their licences taken off them under planned new laws.
The government plans to introduce a "fit and proper person" test to weed out rogue operators.
The law was tightened up in 2013 – but a review has found some site owners were still abusing their position.
Many of those living in so-called park homes are elderly and vulnerable and need more protection, the review said.
Local authorities would be able to set up a register "of persons who they are satisfied are fit and proper" to run sites, and would have the power to remove operators from it if they were deemed to have broken the rules.
The Ministry of Housing, Communities and Local Government hopes the new rules will deter owners who continue to "disregard the law" and they expect it will target the worst offenders in the sector.
It said: "The aim of this review is to give better protection to park home owners whilst ensuring that honest professional site owners are not faced with unfair competition from rogue operators."
Service charges
Park home living is where the resident owns their home, but pays a pitch fee to the owner of the site for the right to stay on the land.
Residents told the government how in some cases they are being billed with service charges which increase pitch fees by £1,000 a year.
Within the UK, more than 85,000 people own park homes and there are more than 2,000 sites in England.
The government said it aims to "ensure that residents only pay for services that they are required to pay for through the pitch fee and will bring forward legislation in due course to amend and clarify the definition of a pitch fee and prevent the use of variable service charges in written agreements".
The Mobile Homes Act of 2013 tightened the law on park homes, but the review found many residents still do not know their rights and as a result are being financially exploited.
The 2013 Act included a provision for a "fit and proper person" test but it was not put into force to give the industry a chance to show it could clean up its act.
Site owners argued that local authorities already had sufficient powers, the review said, and local authorities were concerned about the practicalities of introducing a new test, but the government said it had decided to take action.
The changes will be introduced "in due course, when Parliamentary time allows, subject to a technical consultation to ensure the proposals work effectively and remove unscrupulous and criminal site owners from the park homes sector".


Source BBC News