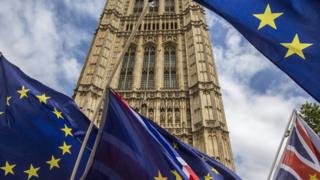 A former Conservative minister has compared Theresa May's Brexit plan to a "ghastly cockroach" and vowed to vote against it in Parliament.
Owen Paterson said the package agreed at Chequers in July would hamper the UK's ability to negotiate free trade deals with other countries.
Senior ministers have been defending the plan, which Eurosceptics say will keep the UK shackled to EU rules.
The chancellor said it "delivers on the decision of the British people".
Speaking at the Conservative Party conference in Birmingham, Philip Hammond dismissed EU warnings the model would not work, saying: "That's what people said about the light bulb in 1878."
But Mr Paterson, the former Northern Ireland secretary, dismissed it when he appeared alongside other Eurosceptic Tories at a conference fringe event.
The UK should be "actively negotiating" free trade deals with the likes of the United States, he said, but "while Chequers is floating around, like some ghastly cockroach, crawling forwards… they're not going to start talking to us.
"It's absolutely pointless."
He added: "My whip is here taking notes and so I'll say it to him directly – I'm voting down Chequers."
Also on day two of the Tories' conference, three serving EU ambassadors to London publicly criticised Foreign Secretary Jeremy Hunt for comparing the European Union to the Soviet Union.
Mr Hunt had accused Brussels of seeking to "punish" Britain for wanting to leave the EU and compared it to the USSR trying to stop its citizens leaving.
Ambassadors from Estonia, Latvia and Sweden all tweeted their disapproval, with the tweet from the Latvian ambassador being retweeted by the EU Commission's deputy chief negotiator, Sabine Weyand.
Earlier Brexit Secretary Dominic Raab told the EU to "get serious" if it wants a Brexit deal, warning the UK may have "no choice" but to leave without one.
And Mr Hammond hit back at former foreign secretary Boris Johnson, who has led criticism of the Chequers proposals, saying he was a "big picture man" whereas what was needed was "a very detailed and complex negotiation".


Source BBC News