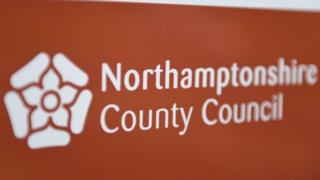 All next May's elections in cash-strapped Northamptonshire have been postponed during a consultation on a new local government structure.
Communities Secretary James Brokenshire made the announcement as he issued the first report by commissioners appointed this year to run the county council.
It confirmed a budget deficit of up to £70m and a projected overspend of £30m in 2018/19.
The commissioners have frozen all non-essential spending.
Only identified "core services" will be funded and money controlled by finance officers overseen by appointed outside monitors.
"We are confident that the sum of these measures will deliver considerable savings," the commissioners' report said.
Eight councils in Northamptonshire are now to be asked to respond to the consultation on the new structure, which will last until 25 January.
They are to be asked what form of local government would be most appropriate for the county.
The eight have already have already expressed a preference for two unitary authorities, but this idea has not been widely supported so Mr Brokenshire is to expand his consultation.
Bodies being consulted include all principal councils in the county, plus neighbouring authorities, Northamptonshire Chamber of Commerce, South East Midlands Local Enterprise Partnership, and the county's police and crime commissioner.
"We also welcome views from any interested persons, including local residents and organisations," said Mr Brokenshire.
Elections from county level down to parishes will be postponed since councillors would serve less than a year.
The leader of Wellingborough Borough Council, Martin Griffiths, said work a considerable amount of work had already been done in preparation for the review and this would be "stepped up" during the consultation period.
Jonathan Nunn, leader of Northampton Borough Council, said: "Given the tight timescales we have continued with our work on unitary councils, and so it's good to now have certainty that things are progressing in Westminster."


Source BBC News