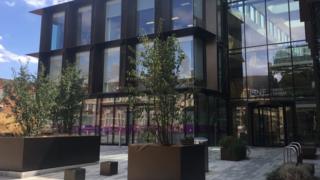 A council plans to cut spending on agency staff and highways services, while boosting tax receipts, to tackle a £55m funding shortfall.
The "stabilisation plan" published by Northamptonshire County Council aims to address a £35m deficit from 2017-18 and a projected £20m overspend in 2018-19.
Government-appointed commissioners have been brought in to oversee the council, which has banned spending twice.
Council leader Matt Golby said the authority faced "unprecedented times".
It has been forecast that the Conservative-run council will go over budget by £30m in 2018-19, but savings mean that figure now stands at £20m.
Newly-announced cost-saving measures include clawing back £6m by increasing the number of people paying council tax.
The authority will be scrapped in 2020 to make way for a new unitary council.
Other plans to make money back include increasing the collection of council tax accounts in arrears and by reviewing single person discounts for those no longer entitled to receive them.
Meanwhile, there will be reductions in spending on highways and agency staff, with the latter reducing by 30% in all areas other than children's social services.
Highways spending faces a £350,000 cut to funding this financial year, with further savings of £150,000 planned for 2019-20.
Mr Golby said: "These are unprecedented times for us and as such we need a robust plan to address the financial challenges we now face.
"The stabilisation plan published today alongside our latest financial reports show how we are now moving firmly towards stabilising our budget position."
The authority's chief executive Theresa Grant added: "We now have a firm set of proposals and new measures which can help us move towards stabilising our budget.
"However, we are of course acutely aware that the challenge to deliver this plan is significant and as such we will now focus all our energy on doing so."


Source BBC News