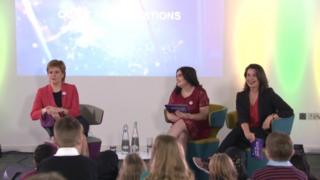 Scotland's first minister has revealed that she "went through periods" of being bullied at school.
Nicola Sturgeon said the bullying was never so serious that it made her too scared to go to school.
But she said she had experiences in primary school where "it certainly was sufficient at one stage to involve a teacher."
Ms Sturgeon was appearing in a special First Minister's Question Time Next Generation programme for young people.
The event, which was broadcast on STV's Scotland Tonight programme, also saw the first minister questioned about homework, her inability to use a cooker and which reality TV programme she would appear on – as well as the new, reduced-sugar recipe for the Scottish soft drink Irn Bru.
The SNP leader, who grew up in Ayrshire and went to Dreghorn Primary School and Greenwood Academy, said she had generally loved her time at school.
'Come forward'
However, she revealed: "Yes, I went through periods at school of being bullied.
"I wouldn't say it ever got to a really serious level that made me unable to go to school or scared to go to school.
"But I had experiences in primary school where it certainly was sufficient at one stage to involve a teacher."
She added: "Many people will have those experiences and what is good (is) to be able to be open about them, and to come forward about them."
The first minister also stressed that she would not stand in the way of a second vote on leaving the European Union.
But she was clear she "would like to be convinced that if there was going to be a second vote Scotland would have an assurance that we don't just end up in the same position all over again".
She said: "The big question for Scotland though, if there was to be another vote on EU membership, is how do we make sure that we don't end up in the same situation again where Scotland votes one way but because the rest of the UK votes another way, we effectively end up being taken in a direction against our will."
Bake Off
One audience member asked why she had had to wait seven months to get specialist treatment for a chronic skin condition, with the first minister saying: "You shouldn't have had to wait that length of time."
But many of the questions posed by the young people were more light-hearted, with Ms Sturgeon asked about her favourite animal and reality TV programmes.
She told the audience she was a "little bit scared of dogs", so her favourite animal was the cat, although she added she did not have one as a pet.
Questioned on which reality TV show she would appear on, she ruled out appearing on the Great British Bake Off, saying she could not bake, and also said that as she had "two left feet" she did not know if Strictly Come Dancing "would be right for me".
But she stated: "When I was younger I used to do ice skating quite a lot, so the Dancing On Ice one, I think I quite fancy that."
She insisted that "I don't think you can taste the difference" between the original-recipe Irn Bru and its replacement – adding she had discussed this with the chief executive of its manufacturer AG Barr.
Asked if more life skills should be taught at school, she said the Scottish government would listen to the views of young people on this, but added: "Being able to work a cooker is one of these life skills I missed out on when I was younger."
And questioned by one audience member on why children receive so much homework, she said that "getting the balance right is never an easy task".
Ms Sturgeon also spoke about a possible future career after politics, saying when she was younger being a children's author had been one of her dream jobs.
She said: "When I was a child I either wanted to be a lawyer, which I went on to do, or I wanted to write children's books, which I've not done yet, so who knows, maybe in the future. Those were my dream jobs when I was a child."


Source BBC News