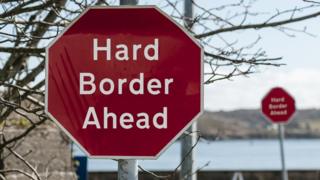 Northern Ireland is not well prepared for a no-deal Brexit in areas such as trade and customs, auditors have said.
Planning is also "severely constrained" by the uncertainty surrounding the border, migration and the repatriation of powers from Brussels, said the Northern Ireland Audit Office.
Planning responsibilities fall to Westminster as "reserved" powers.
But these powers were never devolved to Stormont, according to a review by the spending watchdog.
Extensive preparations have been made by Northern Irish civil servants in areas which come under the remit of the former power-sharing government at Stormont, such as agriculture, the review said.
It warned: "In respect of those areas where policy is reserved, Northern Ireland is not well prepared for leaving the EU without a deal.
"The civil service remains engaged with the UK government to ensure that Northern Ireland's interests are recognised in the negotiations, although without a functioning executive its influence has undoubtedly been limited."
Planning to manage risks in areas where powers are devolved to the Northern Ireland Assembly is ongoing through civil servants.
'Resolute in our commitments'
The spending watchdog added that negotiations between the EU and the UK are ongoing and that in the absence of an agreed exit deal, the way ahead on key issues is far from clear.
"The UK government's position remains that it will achieve a deal that will mitigate these risks as far as is possible. However, time is running short," said the review.
In response, a spokeswoman for the UK government said: "The government is resolute in our commitments to Northern Ireland. This includes no hard border between Northern Ireland and Ireland and any physical infrastructure or related checks and controls.
"It remains the responsibility of the government to continue preparations for the full range of potential outcomes, including no deal.
"As we do, and as decisions are made, we will take full account of the unique circumstances of Northern Ireland."


Source BBC News